WATCH THE ON-DEMAND WEBINAR AT YOUR CONVENIENCE
Maximizing Summer School Curriculum to Advance Student Outcomes
If you're getting ready to plan your K-2 Phonics Summer School Curriculum and have questions on how to incorporate Structured Literacy practices that are aligned with The Science of Reading into your daily lesson plans - then

you'll want to watch this

timely webinar.
During this session, Laura Stewart, Chief Academic Officer and Joni Maville, Director of Product Development, 95 Percent Group, share evidence and research-based phonics strategies to move all rising K-2 students towards grade-level mastery this summer.
Improving Summer School Outcomes for ALL Students
Planning your Summer School phonics curriculum for Rising K-2 students can be overwhelming. As you prepare, there are bound to be lots of questions from identifying student needs to developing lesson plans that will effectively address skill gaps in just a few weeks.
The webinar covers 4 key areas:
Discusses the rationale for providing a Summer School program that's aligned with Science of Reading principles


Reviews the key elements that are aligned with the evidence around effective phonics instruction and how to incorporate them into your plan

Phonological Awareness: simple to the most complex skills

Letter-Sound Correspondance

Orthographic Mapping

Reading

Writing





Examines current Summer School research and data that support a structured literacy instructional approach


Demonstrates research-based instructional routines from our 95 Booster Bundle™:

Summer School 2nd Edition

to

effectively teach:
phonemic awareness,

sound-spelling mapping,

word sorting,

word chains,

sentence dictation,

syllable instruction with gestures, and

a process to carry over word learning to passage reading
The session content will help to improve Summer School instructional practices and student outcomes by applying cumulative and sequential multimodal routines to the daily lessons.
Complete the form to access the webinar recording and all of the digital resources shared during the live event including the presentation notes, Summer School 2nd Edition Overview and Sample Lessons, Summer School 21 vs Summer School 2nd Edition Crosswalk, Summer School Phonics Checklist, and a 3-Hour Summer School Model.
Webinar Reviews
This is amazing and so necessary for the students struggling right now - great presentation thank you so much for sharing this information!
This was great! Our district is adopting the 95% Core Phonics this upcoming school year and we couldn't be more excited!
Thank you for this webinar, very informative. Just started using the intervention lessons-so great!!
Thank you! This was a great presentation. We look forward to adding these instructional practices to our summer program.
95 Phonics Booster Bundle™: Summer School 2nd Edition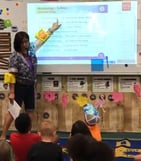 Our Summer School 2nd Edition is a 25-day phonics program for Rising 1st through 3rd graders, taught either whole class or small group, to address gaps in foundational skills. The 30-45 minute lessons, at each grade level, provide targeted research and evidence-based structured literacy instruction that is explicit, systematic, sequential, and cumulative. Learn more and download our Summer School Overview and Sample Lessons to preview the program.
About 95 Percent Group
95 Percent Group is an educational company whose mission is to help educators identify and address the needs of all readers. Using an approach that is aligned with Structured Literacy, the company focuses on providing educators with whole-class and small group literacy solutions as well as developing foundational knowledge about The Science of Reading to deliver research and evidence-based instructional strategies to close skill gaps.
Questions?