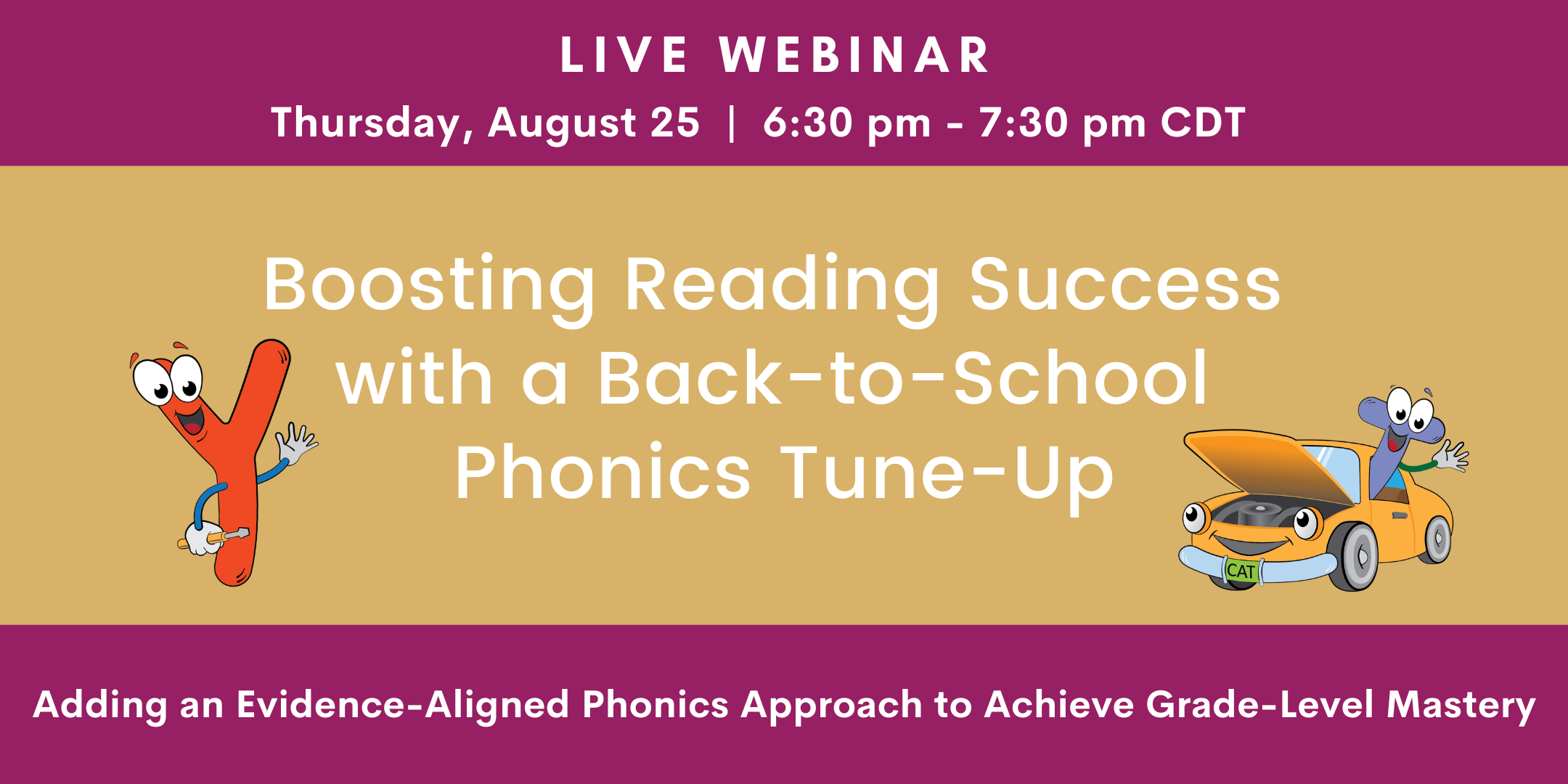 As educators, we know that getting students off to a strong start at the beginning of the new school year is critical for reading success.
Many students will start a new grade level missing essential skills that weren't mastered last year or that may have been lost over the summer. To catch students up and improve their opportunity to become confident grade-levels readers, we recommend proactively adding an explicit phonics boost to address and overcome these deficits as classes resume.
During this live event, Laura Stewart, Chief Academic Officer, and Joni Maville, Director of Product Development, will discuss the reading science (the why) behind providing students with extra explicit phonics instruction and support (the how) that will allow them to meet grade-level reading expectations.
We'll take a closer look at:
The advantages of adding a "phonics boost" to get students started in the new school year
The rationale for a core phonics approach and the essential components of an effective phonics lesson to address the needs of all learners


The research behind a systematic and explicit phonics supplemental program like our proven solution - 95 Phonics Booster Bundle™: Tune-Up


A day in the life of teaching Tune-Up, including key concepts covered at each grade level, lesson elements, program materials, instructional versatility, and how to monitor student progress to ensure skill mastery
Five live webinar attendees will also have the opportunity to win a complete 95 Phonics Booster Bundle™: Tune-Up, including a grade-level Teacher's Package and up to 5 Student Workbook packages to accommodate 25 students.
Register NOW to join us!
Complete the form to register for the webinar today. For security purposes, we use a 2-step registration process. After you complete the form on this page, you will need to add your name and email to the Zoom webinar form to receive your secure invitation link.
We look forward to seeing you on Thursday, August 25th at 6:30 pm CDT.
Meet your Webinar Facilitators

Laura Stewart, Chief Academic Officer, 95 Percent Group
As our thought leader, Laura supports our leadership position in the Literacy market and is our primary Reading Science advocate. Her educational leadership journey began as a classroom teacher and a school district administrator igniting her lifelong passion for empowering educators to positively impact ALL students and ultimately changing the course of literacy achievement in this country.
Before joining 95 Percent Group, Laura served as the Chief Innovation Officer for The Reading League and was the Chief Academic Officer for Professional Development with the Highlights Education Group. A LETRS® Certified Trainer, Laura is looking forward to innovating and expanding our professional development offerings while growing our team of literacy experts to deliver services that meet evolving client needs.

Joni Maville, Director of Product Development, 95 Percent Group
A dedicated educator, Joni brings over 20 years of early literacy experience to 95 Percent Group. As a first-third grade teacher, K-3 Reading Coach, and K-8 Teaching and Learning Specialist, Joni understands the critical need to close phonics skill gaps as early as possible for all students to help them become joyful, confident readers.
Joni is committed to meeting ongoing instructional needs to improve student outcomes. In the past two years, she was responsible for developing and releasing several new products including the 95 Phonics Core Program™, 95 Phonics Skill Series™: Short Vowels, and the 95 Phonics Booster Bundle™: Summer School 2nd Edition and Tune-Up (which is featured in this webinar), and the MSRC Presentation Package.