VIEW THE WEBINAR AND DISCUSSION ON-DEMAND
Understanding the Science of Reading and Structured Literacy Webinar and Panel Discussion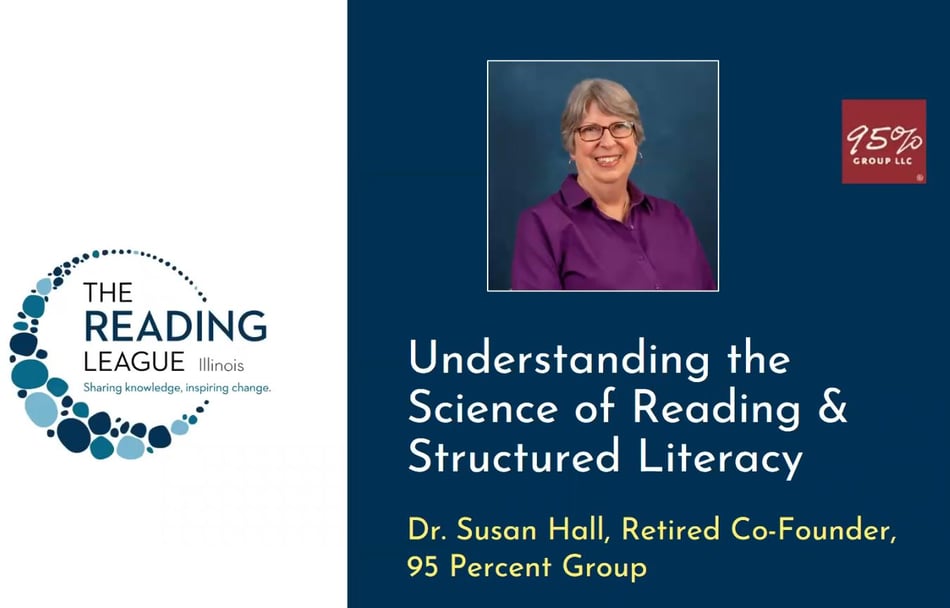 We invite you to watch this complimentary session featuring Dr. Susan Hall, Retired Co-Founder, 95 Percent Group, and a panel of IL Educators, presented in collaboration with The Reading League Illinois.
The "Science of Reading" is a hot term.
What does it really mean? How does it relate to a Structured Literacy approach? During this presentation and panel discussion, participants will:
Unpack the scientific research supporting models of reading acquisition, including brain scanning technology,
Deepen their understanding of 3 models of reading development: the Simple View of Reading (Gough & Tunmer), the Four-Part Processing Model (Seidenberg), and the Reading Rope (Scarborough),
Understand the instructional principles that guide structured literacy: explicit, systematic, cumulative, and diagnostic, and


Acquire practical multimodal instructional routines that align with the principles of Structured Literacy, and discuss their application in Illinois classrooms.


Meet your Webinar Facilitator Susan L. Hall, EdD
Dr. Hall is a nationally recognized leader in Response to Intervention, data analysis, and reading instruction. She brings more than 20 years of experience as a consultant in the field of early reading intervention and has been a nationally certified trainer of DIBELS® and LETRS®.
She is the author or co-author with Louisa Moats of eight books about reading development including I've DIBEL'd Now What?, Jumpstart RTI, and her most recent publication, 10 Success Factors for Literacy Intervention: Getting Results with MTSS in Elementary Schools.
Meet the Event Panelists
Matt Birdsley is currently in his third year as Director of Curriculum & Instruction for Sterling Public Schools in Sterling, IL. He has served as an Elementary and Middle School Principal for 8 years and as an Associate Middle School Principal for 3 years.
Melissa Hostetter is a first-grade teacher in Springfield, IL, and is the founder and co-administrator of the Illinois Science of Reading Facebook page. Her powerful TEDx Talk, Can we Afford to Ignore the Science of Reading? includes many topics that will be discussed during this live event.
Meghan Martin is the lead Speech and Language Pathologist for St. Charles Community Unit School District 303 in St. Charles, IL.
Key Presentation Resources and Panelist Recommendations
About The Reading League Illinois Chapter
The Reading League is a national not-for-profit that promotes knowledge to reimagine the future of literacy education and accelerate the global movement toward reading instruction rooted in science.
The Reading League Illinois seeks to provide readily accessible training and support to advance the awareness, understanding, and use of evidence-aligned reading instruction throughout Illinois. TRL-IL views literacy as an urgent social justice issue, and believes that with appropriate instruction, nearly all children can become proficient readers.
About 95 Percent Group
95 Percent Group is an educational company whose mission is to help educators identify and address the needs of struggling readers. Using an approach that is aligned with Structured Literacy, the company focuses on providing educators with whole-class and small group literacy solutions as well as developing foundational knowledge about The Science of Reading to deliver research and evidence-based instructional strategies to close skill gaps.
Questions?