The Syracuse Road to Results Workshop has been CANCELLED.
K-1 Syracuse Session
Tuesday, March 17
During this workshop, we'll share our evidence-based PA and phonics intervention strategies with you to accelerate reading achievement in your classroom.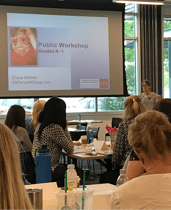 Topics Include:
Using CBM data to tell WHO is struggling and diagnostic data to tell WHY
Exploring a PA and Phonics continuum addressing skill deficits in a specific sequence
Using manipulatives to engage students, explicitly teaching PA skills, and identifying word patterns
Discovering the importance on Nonsense Word Analysis
Effectively applying intensive phonics intervention plans and instruction
*Session will run from 8:30 am - 3:30 pm with a 1 hour lunch break on your own.
All K-1 attendees will receive a copy of Teaching Blending, a $48 value
Teaching Blending
Transitions readers from reading words sound-by-sound to reading whole words blended
Provides teachers with specific techniques for blending instruction
Eliminates the need to subvocalize words before reading