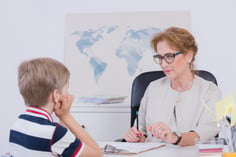 Download Your FREE Phoneme Substitution Screener
This valuable assessment is administered 1:1 with an educator providing instructions and recording student responses. The brief screener is not timed. Your students will listen to the directions and provide answers without seeing the printed words. To master phoneme substitution, students will need to score 4/5 on each of the 3 sections (beginning, ending, and medial sound substitution).
We provide everything you need to start using this assessment TODAY!
Download and print the screening tool and the personalized student scoring sheets here. Note that there are 2 screening forms.
FORM X includes easier words for students in grades 1-2, and
FORM Y has more challenging substitution prompts, including substituting sounds in a blend, allowing you to assess students in grades 3-4.
SHARE this Valuable Screening Tool with your Colleagues
Be on the lookout for our upcoming blog post where our experts will discuss why Phoneme Substitution assessment is critical for student success. And, be sure to share this easy-to-use resource with your colleagues so that ALL students can benefit by using this screener to identify at-risk readers and provide necessary intervention.