Bridging the Gap Workshops:
Bringing
Acadience™
Data to Instruction
Did you hear the news?
The DIBELS Next® Assessment is now Acadience™ Reading. Join us and learn how to effectively connect your Acadience™ data to intervention instruction to improve student achievement.
Salt Lake City, UT
K-1 Tuesday, February 12
2-6 Wednesday, February 13
TOPICS INCLUDE
Using diagnostic assessment following DIBELS testing to identify skill deficits
Learning how to leverage and make the most of your DIBELS data
Teaching blending to student whose NWF-WWR is below benchmark
Expanding vocabulary through morphemes
Analyzing DIBELS data to pinpoint missing skills
Implementing hands-on strategies for providing intervention for phonological awareness and phonics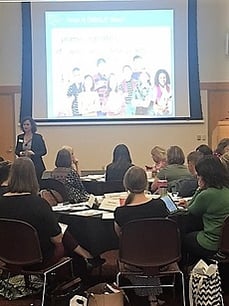 Practicing instructional strategies to teach hands-on phonics using manipulatives and multisyllable decoding
Measuring progress with DIBELS
Using DIBELS data to record student progress
REGISTRATION
Registration is available online 24/7 in our web store.
Attendees can also download the Registration Form here and fax or mail it to our office to complete the process.
One Day - $199/$149*
Two Days - $300/$275*
*Early Registration by 1/18/19 to receive a discount.
Download the workshop flyer for additional information.



QUESTIONS
Contact us at workshops@95percentgroup.com