Do you know how to successfully implement and sustain MTSS? Or, have you started the MTSS process and faced challenges you weren't expecting?
In her latest publication, 10 Success Factors for Literacy Intervention: Getting Results in Elementary Schools, Dr. Hall candidly shares her experience helping school districts across the country successfully implement and sustain effective MTSS processes on their elementary campuses.
How do school leaders achieve exceptional literacy MTSS results?
Having observed and interviewed leaders of "beat-the-odds schools", Dr. Hall focuses on leadership strategies that matter. She'll show you how leaders manage MTSS and make key decisions that improve the implementation process.
Learn more about the 10 most important factors for achieving MTSS literacy success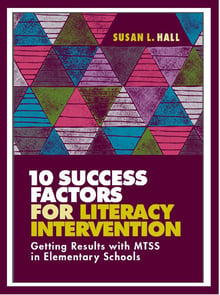 The 10 Success Factors Overview is an 8-page booklet that provides highlights from the book and includes the most important factors present in schools that ARE GETTING RESULTS from their literacy MTSS.
No matter where you are with MTSS, just starting out or fully implemented, 10 Success Factors provides strategies and tips for delivering a continuum of support to match student needs.